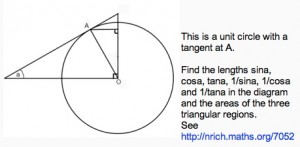 This is a unit circle with a tangent at A.
The angle marked in the diagram is angle a.
Copy the diagram and find all the angles in terms of the angle a.
Find the six line segments in the diagram corresponding to sina, cosa, tana, 1/sina, 1/cosa and 1/tana.
Find the areas of the three triangular regions.
.See  AIMSSEC Notes for Teachers.
This activity is adapted from the NRICH task Geometric Trig with permission of the University of Cambridge. All rights reserved.
South Africa COVID-19 News

Login