The AIMING HIGH Teacher Network links the AIMSSEC international community and all who share the AIMSSEC objective to play a key role in the extension of educational opportunities for disadvantaged communities in Africa by improving the quality of the teaching and learning of mathematics. AIMSSEC works to raise the professional status and professionalism of mathematics teachers and to spread enthusiasm and enjoyment in learning mathematics. All our work is underpinned by the belief, supported by widespread research, that effective mathematics teaching is based on:
strong subject knowledge,
an understanding of how students learn maths, and
the skills and confidence to use this knowledge.
AIMSSEC offers professional development courses for anyone passionate about the teaching and learning of mathematics in South Africa. For mathematics teachers and leaders, we tap into unexplored mathematics teaching skills, enhancing teachers' subject content, pedagogical content and technological content knowledge. Courses are delivered as either residentials run during the January and June South African school holidays followed by distance learning or as online courses which last three/six months, depending on the course. In South Africa, courses are fully funded for teachers and leaders of mathematics. We are flexible in delivering teacher training outside of South Africa.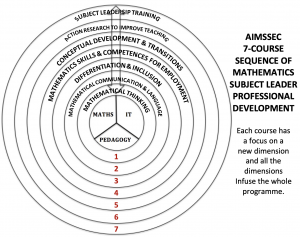 Through the AIMING HIGH Network, educators can help, share information and discuss ideas and concerns with other professionals. They can also download Workshop Guides that enable teachers to run their own professional development workshops without the need of an expert leader or advance preparation. With the AIMSSEC App (go to Google Play and search for AIMSSEC) you can download the entire contents of this website in less than 5 minutes and then use it offline, that is without connection to the internet.
The learning activities you find here are designed to engage learners in thinking mathematically.
Use the menus at the top of the page. Choose lesson activities or click 'Topic Links' to search for lesson activities by age group and topic . By trying these activities, and sharing ideas with other teachers in the blog that follows each learning activity, you will gain insights to help you to develop your teaching. Solutions are provided to save you time so these conversations should concentrate on how to use the learning resources effectively for activity based learning. Teachers can help each other to plan motivating and successful lessons by writing about what worked well in their classrooms and this helps other teachers who find teaching in a 'learner centred' way to be more difficult than 'teacher centered' teaching.
Choose the professional development menu link for workshop guides. You can also download guidance documents to help you to run workshops for other teachers without being a subject expert, posters for your classroom walls, articles to read and much more. The best teachers, at all levels, are themselves active learners always keen to engage in doing and discussing mathematics.
Read 'Mathematics Education for the 21st Century' to find out more about AIMSSEC and how teaching for the 21st Century must be different from the past because our learners will need different skills to thrive in this radically changed and rapidly changing world
For more informations see the AIMSSEC and AIMS Next Einstein websites.
South Africa COVID-19 News

Login