Currently viewing the tag: "Triangles"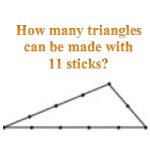 Use 11 sticks of equal length to make this triangle with edge lengths 2, 4 and 5. You might like to record this as (2, 4, 5).
How many other triangles can you make with 11 sticks?
Investigate all the triangles that you can make with different numbers of sticks.
Record your […]
Continue Reading

→