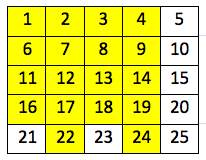 Choose your number to start and shade it on the grid.
To go to another number you can either MULTIPLY BY 2  or  SUBTRACT 5.
So if you start on 12,  you can either shade 12 x 2 = 24  or 12 – 5 = 7
Choose any shaded number and carry on until you can't get to any numbers except numbers already shaded.
Record your results.
Choose another number to start. Which numbers can you visit?
Can you find a starting number that takes you to all the numbers in the grid?
What happens if you use a grid for 1 to 100? You can download a grid here.
Describe at least one pattern that you notice.
This puzzle starts with a 5×5 square of numbers and you can either x2 or -5. Invent a new puzzle by slightly changing something in the rules of this puzzle. Tell us about your puzzle.
Click here to download the WHERE CAN WE VISIT worksheet.
Click here to download the Notes for Teachers.
This problem is adapted from the NRICH task with the same name with permission of the University of Cambridge. All rights reserved.
South Africa COVID-19 News

Login