Currently viewing the tag: "Integers"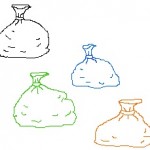 Ram had 15 coins, all the same kind, and he put them into 4 bags.
He labelled each bag with the number of coins inside it.
He could then pay any sum of money from 1 coin to 15 coins using one or more of the bags without opening any of the bags.
How […]
Continue Reading

→
South Africa COVID-19 News

Login