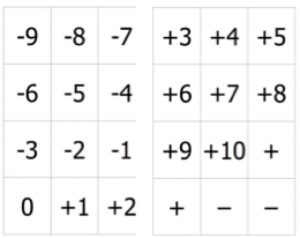 This is a game for two players, a group of 3 or 4 players, or for the whole class. You will need to download and cut out or otherwise make 2 sets of these 24 cards.
Separate the 40 number cards from the 8 operation cards and shuffle them separately to mix them up.
With a small group of 2, 3 or 4 players each player is dealt 3 number cards and 2 operation cards and has to rearrange them to get the highest positive number. This can be played with a timer. The player who gets the highest number wins one point. If more than one player gets the same highest number each of them gets a point. The first player to reach 10 points is the winner.
Click here for the UP AND DOWN GAME worksheet.
Click here for the UP AND DOWN GAME Inclusion and Home Learning Guide
Click here for the Notes for Teachers with a description of the whole class game.
South Africa COVID-19 News

Login