Currently viewing the tag: "Whole numbers"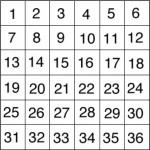 Can you find the chosen number from this square using the clues below?
1. The number is odd.
2. It is a multiple of three.
3. It is smaller than 7 x 4.
4. It has an even tens digit.
5. It is the greater of the two possibilities.
[…]
Continue Reading

→