Currently viewing the tag: "Whole numbers"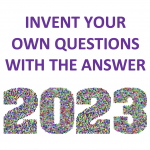 Find the prime factors of 2023.
You can be a creative mathematician, you can be someone who has your own mathematical ideas. Find your own interesting facts about 2023 and calculations that have the answer 2023.
Write 2023 as a product of its prime factors.
Continue Reading

→
South Africa COVID-19 News

Login