Can you find the chosen number from this square using the clues below?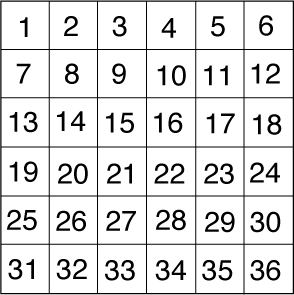 1. The number is odd.
2. It is a multiple of three.
3. It is smaller than 7 x 4.
4. It has an even tens digit.
5. It is the greater of the two possibilities.
Click here to download the ONE OF THIRTY SIX worksheet.
Click here for the AIMSSEC Teacher Notes ONE OF THIRTY SIX for Years 4 to 8.

This activity is adapted from the NRICH task One of Thirty Six with permission of the University of Cambridge. All rights reserved.
South Africa COVID-19 News

Login