Currently viewing the tag: "Professional Development"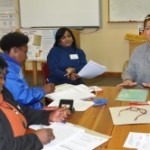 Guides for self-help PD workshops and resources for activity based learning to support teachers in developing  more effective and more up-to-date ways of teaching and a deeper understanding of mathematics and pedagogy.
You don't need an expert leader or any advance preparation. Just use an AIMSSEC workshop guide.
These guides enable groups of teachers to […]
Continue Reading

→