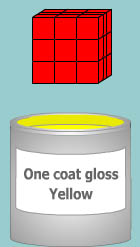 Imagine a large cube made up from 27 small red cubes each measuring 1 cm by 1 cm by 1 cm. What is its volume?
Imagine dipping the large cube into a pot of yellow paint so the whole outer surface is covered. What is its surface area?
Now imagine breaking the cube up into 27 small cubes.
How many of the small cubes will have yellow paint on their faces?
Will they all look the same?
How many red faces and how many yellow faces do they have?
Now imagine doing the same with other big cubes made up from small red cubes.
What can you say about the number of small cubes with yellow paint on?
What interesting discoveries can you make?
Click here for Notes for Teachers.
This problem is adapted from the NRICH task Painted Cube with permission of the University of Cambridge. All rights reserved. Click here to download the NRICH poster.
South Africa COVID-19 News

Login