Currently viewing the tag: "Algebraic expressions"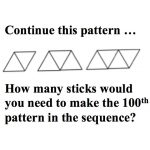 Copy this pattern. You could use toothpicks or paper sticks or draw the pattern on isometric paper (download here).
Make or draw the next 3 patterns in the sequence. How would you explain to someone else on the telephone how to do this  when you could not point to the diagram?
[…]
Continue Reading

→