Currently viewing the tag: "Algebraic expressions"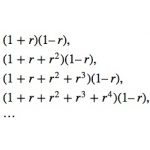 Multiply out these expressions:
What do you notice?
Does this pattern continue?
Can you prove it?
What does this tell you about the sum to n terms of the geometric series with first term 1 and common ratio r?
Why do we get a formula for all values of r except r = 1?
Explain […]
Continue Reading

→
South Africa COVID-19 News

Login