Currently viewing the tag: "Properties of 2D shapes"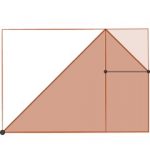 Take a sheet of A4 paper.  First fold the top left corner to meet the bottom edge and press the fold flat. Then fold the top right corner to meet the edge that you folded down.
Can you prove that the quadrilateral you have made is a kite?
Can you find the perimeter of the […]
Continue Reading

→