Currently viewing the tag: "Quadrilaterals"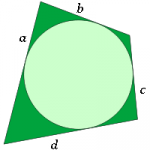 You are going to investigate quadrilaterals that have inscribed circles as shown in the diagram.
Draw a circle with any radius you choose, and then draw 4 tangents making a quadrilateral with the circle inside touching the quadrilateral at 4 points.
Measure the edge lengths of the quadrilateral ABCD.
What do you […]
Continue Reading

→