Currently viewing the tag: "Fractions"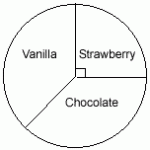 Xolile sells ice cream and the pie chart shows the sales for last week.
What fraction of the ice creams sold were strawberry? If she sold 60 strawberry ice creams how many ice creams were sold altogether.
The number of vanilla ice creams and the number of chocolate ice creams sold were the same.
[…]
Continue Reading

→
South Africa COVID-19 News

Login