Do this as you read…
Think of a number.
Multiply it by 3.
Add 6.
Take away your number.
Divide by 2.
Take away your number.
You have finished with 3.
How does this work?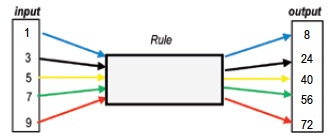 The Function Game is an extension of this Mind Reader activity. What is the rule (or function) that gives the outputs corresponding to the inputs shown in the diagram mapping 1 to 8 and 3 to 24 etc?
To play the Function Game, the teacher thinks of a function, the learners suggest numbers (inputs) and the teacher, telling them that she is doing the same operations each time to their number, writes the outputs on the board. The learners have to guess what rule the teacher is using (what function). When a learner thinks she has guessed the rule the teacher gives her an input and if the learner gives the corresponding output the teacher tells her she is correct. The game continues until several of the learners have guessed the rule and then one of the learners explains to the class how she found it. For example if the function is x \to 3x+5 then 2 \to 11, 3 \to 14, 10 \to  35 etc.
Click here to download the MIND READER worksheet.
Click here for Notes for Teachers.
This problem is adapted from the NRICH task with the same name with permission of the University of Cambridge. All rights reserved.
South Africa COVID-19 News

Login