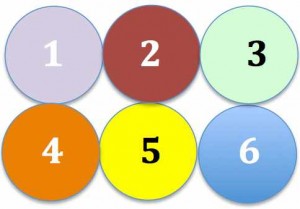 In the Lucky Numbers Game 6 balls are numbered 1 to 6 and 3 balls are chosen at random, without replacing any of the balls, so that 3 different winning numbers are chosen. There is no significance in the order of the numbers.
When you play this game you get a ticket with 3 numbers written on it.
You win a prize if your 3 numbers match the 3 numbers on the chosen balls.
What is your chance of winning a prize?
If you find this problem difficult try the simpler case where 2 balls are chosen from 6 and you get a ticket with 2 numbers.
The probability of winning the 2 lucky number game is 1/15.
If 100 people pay R10 to play the 3 number game and the prize is R150 would the organisers of this game expect to make a profit? If so why?
Click here to download the LUCKY NUMBERS worksheet
Click here to download the LUCKY NUMBERS Inclusion and Home learning Guide
Click here to download the LUCKY NUMBERS Notes for Teachers
South Africa COVID-19 News

Login