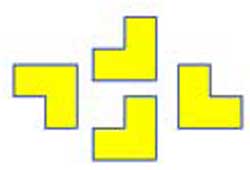 These 'trisquares' are made up of three squares and each has an area of 3 square units.
Can you fit them together to make an enlargement of the shape? What is its area?
Can you fit trisquares together to make enlargements of scale factors 3, 4 and 5? What are their areas?
Is it possible to make enlargements of all sizes by fitting trisquares together?
Squared paper would be useful for working on this challenge.
AIMSSEC Teacher Notes TRISQUARES
This problem is adapted from the NRICH task L Triominoes with permission of the University of Cambridge. All rights reserved.
South Africa COVID-19 News

Login