Currently viewing the category: "Lower Secondary"
The probability that there are two people in a group with birthdays in the same month depends on the size of the group.
What if the group has more than twelve people?
What about a group of 2 people? What is the probability they have birthdays in different months?
Continue Reading

→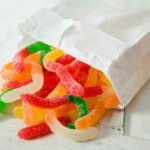 A bag has a large number of green, white, orange, yellow and red sweets.
You pick sweets from the bag without looking. If you pick 2 sweets what different combinations of colours can you get?
Continue Reading

→
South Africa COVID-19 News

Login