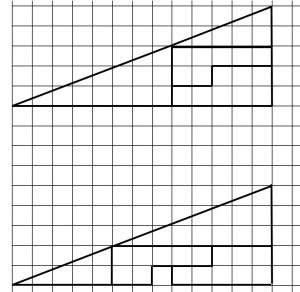 If you move the 4 pieces of this jigsaw around they will fit into both outlines. One square unit has been removed in the lower shape.
You might like to cut out the pieces from the Muggles Magic Learner Worksheet and try this for yourself.
Click here for the MUGGLES MAGIC Guide for Parents
Click here for the Notes for Teachers.
Explain what has happened to the missing area.
As Harry Potter fans know well, muggles magic is not magic at all!
See the article on NRICH Muggles, Logo and Gradients for  a Logo program that throws some light on the question.
South Africa COVID-19 News

Login