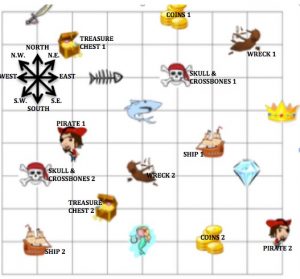 Pirate 1 sails:
3 squares North,
then diagonally 1 South East,
2 squares North East,
2 squares South,
1 square South West,
4 squares East
then 4 squares south.
Where does he go to and what does he meet on his journey?
Using the 8 compass directions describe a route for Pirate 2 in which he picks up everything in the picture and returns to his starting point. He tows the wrecks and the ships join his fleet.
Click here for the Notes for Teachers.
South Africa COVID-19 News

Login