AIMSSEC HAPPY MATHS GLOBAL MATHS & SCIENCE LESSON 2020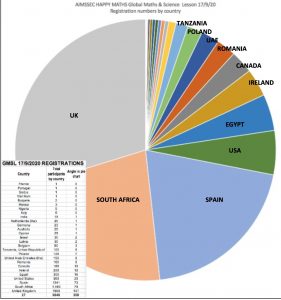 Congratulations to all the participants. The pie chart and table give the number of registrations (total 6646) and angle in the pie chart for each country (27 countries). If you participated in the 30-minute lesson then please report the actual number of participants on the day on https://bubblymaths.co.uk (where you registered).
We would love to see some photos of your groups in the People Stats 2-way table or pie chart. When we get your photo we will send you a very smart certificate of participation – in 2 versions. If you wish you can print a certificate for each child with their name on it, or you can print one for your class, school or home group.
It was good to see so many small family groups taking part. There were fewer registrations this year, as we expected, due to the pandemic but more small groups and we hope that next year we'll get more school registrations and also even more family registrations.
Have you found the sector for your country on the pie chart? Have you checked the calculation of the angle for your country? Please tell other people about the GMSL.
SUGGESTIONS FOR GMSL TOPIC FOR 2021 – let us know if you want to suggest a topic.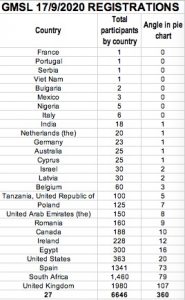 See https://aiminghigh.aimssec.ac.za/years-4-12-people-stats-30-minute-global-lesson/
for Follow-up lessons on Statistics.
South Africa COVID-19 News

Login