Coronavirus Pandemic February 2020 to September 2022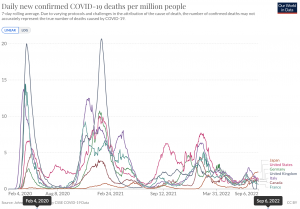 This is not an activity to do on your own. Work with a partner or a small group. The Our World In Data website, compiled by a research team at Johns Hopkins University, has built 207 country profiles which allow you to explore the statistics on the coronavirus pandemic for every country in the world. For the latest statistics look at https://ourworldindata.org/coronavirus  
The suggested plan is that, in small groups, you study the statistics on the Our World in Data website, that you compare the statistics for your own country with other countries, and each group suggests a question for discussion by the whole class. 
Each profile includes interactive visualizations, explanations of the presented metrics, and the details on the sources of the data.
Every country profile is updated daily.
Every profile includes five sections:
Cases: How many new cases are being confirmed each day? How many cases have been confirmed since the pandemic started? How is the number of cases changing?
Deaths: How many deaths from COVID-19 have been reported? Is the number of deaths rising or falling? How does the death rate compare to other countries?
Vaccinations: How many vaccine doses are being administered each day? How many doses have been administered in total? What share of the population has been vaccinated?
Testing: How much testing for coronavirus do countries conduct? How many tests did a country do to find one COVID-19 case?
Government responses: What measures did countries take in response to the pandemic?
South Africa COVID-19 News

Login