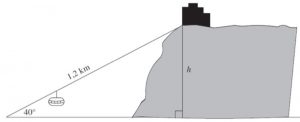 The Cape Town cable car takes tourists to the top of Table Mountain. The cable is 1.2 kilometres in length and makes an angle of 40 degrees with the ground. Calculate the vertical height (h) climbed by the cable car.
If the lower cable car station is 3o2 metres above sea level, what is the height of the upper cable car station?
How much higher do you have to climb to reach the highest point of the mountain at 1085 metres?
Click here to download the CABLE CAR worksheet.