Currently viewing the tag: "Cuboids"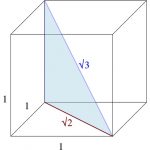 Copy this diagram. Why do the diagonals of a unit cube have lengths √2 and √3?
To draw a cube first draw a square, then draw another square the same size that looks as if it is behind the first square, then join the vertices with four parallel lines.
What are the lengths […]
Continue Reading

→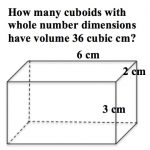 What is the volume of this cuboid?
How many other cuboids with whole number dimensions have the same volume?
Do any of them have the same surface area?
Which has the biggest surface area? Which has the smallest?
How many have a square cross section?
Click here for Notes for Teachers.
[…]
Continue Reading

→
South Africa COVID-19 News

Login