Currently viewing the tag: "Capacity"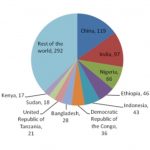 This United Nations Children's Fund pie chart shows the global locations of 783 million people who did not have safe drinking water in 2012 and this number is increasing.
The total world population in 2017 is 7.5 billion (7,500,000,000). What percentage of the world population is without safe drinking water?
The world […]
Continue Reading

→
South Africa COVID-19 News

Login