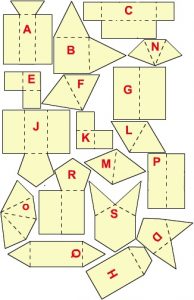 The net of a cube has been cut into two. It can be put together in several ways so that it can be folded into a cube.
Here are the nets of 9 solid shapes.
Each net has been cut into 2 pieced like the net of the cube.
Can you see which pieces go together?
Click here for the CUT NETS worksheet and here for the printable nets.
See the Notes for Teachers – Cut Nets
This activity is adapted from the NRICH task Cut Nets with permission of the University of Cambridge. All rights reserved.
South Africa COVID-19 News

Login