Currently viewing the category: "Lesson Activities"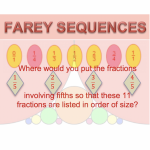 It is not difficult to put a list of decimals in order of size. But what about ordering fractions?
John Farey introduced sequences of sequences of fractions in order of size, now called Farey sequences. Can you discover his method from the following examples?
Continue Reading

→
South Africa COVID-19 News

Login