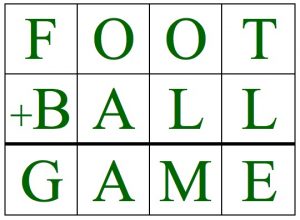 Replace the letters in FOOT + BALL = GAME with numbers to make the sum correct. Each letter represents a different digit.
Here is one example: F=1, O=9, T=4, B=6, A=5, L=3, G=8, M=2, E=7
How many solutions can you find?
There are 224 solutions altogether.
You can work with pencil and paper or you might want to use scrap card and make 20 cards, 2 for each digit, all the same size. Then you can try to find solutions by re-arranging 12 of the cards in a 3 by 4 array. Work systematically so you don't keep trying the same arrangement.
Why not do this as a family group or class investigation? Put a chart on the wall and write up the new solutions as learners find them?
Examples:
F=2, O=9, T=7,
B=3, A=4, L=1,
G=6, M=0, E=8
2997


3411

+
6408
Replace B,A,L,L here:

2004
BALL +
5981

Replace T, L and E here:

199T
653L +
852E

Now find some solutions of your own.
Click here to download the FOOTBALL CHALLENGE worksheet.
Click here to download the Guide for Parents.
South Africa COVID-19 News

Login