Currently viewing the tag: "Trigonometric functions"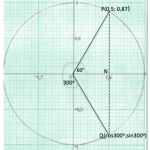 DO NOT USE CALCULATORS FOR THIS WHOLE CLASS ACTIVITY.
YOU NEED TO KNOW: that the cosine and sine functions for ALL ANGLES are given by the coordinates of points on the UNIT CIRCLE. The x-coordinates of points on the unit circle give the cosine of the angle between the x-axis and the radius measured anti-clockwise […]
Continue Reading

→
Graph 1 is the graph y=sinx. Can you identify the coordinates of the points where it crosses the axes and where it reaches its maximum and its minimum values?
How could I make graph 2 from graph 1? Can you work out the equation of graph 2?
Graph 3 has equation y=sin2x. […]
Continue Reading

→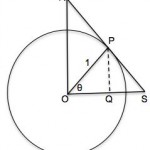 In the diagram the line OS is perpendicular to the lines OR and PQ.
The line RS is a tangent at P to the circle centre O and radius 1 unit.
Find the lengths OQ, PQ, PS, OS, OR and RP.
If OS and OR lie on the coordinate axes, what are the coordinates […]
Continue Reading

→
South Africa COVID-19 News

Login