Currently viewing the tag: "Symmetry"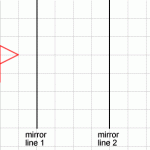 You might like to copy the diagram onto squared paper to help you with this problem.
Reflect the flag in the left-hand mirror line, and then reflect the image you obtain in the right-hand mirror line. Can you describe the single transformation that takes the first flag to the last flag?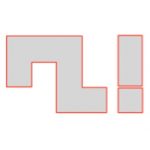 In how many ways can you fit all three pieces together, edge to edge, to make shapes with line symmetry?
Click here to download a sheet so you can cut out your own pieces and try different arrangements.
The first of these examples shows a symmetrical arrangement, the second […]
Continue Reading

→

In how many ways can you half cover one big square using two smaller yellow squares as in diagram A.
What are the similarities and differences between the patterns?
Suppose you half cover four big squares by half covering each square as in diagram B.
Diagram B is unchanged when you rotate […]
Continue Reading

→