Currently viewing the tag: "Difference of two squares"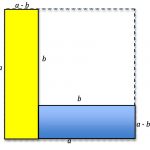 What do you see in this image?
What is the area of the bigger square edged by dotted line segments of length a?
What is left of that area if you take away a square with edges of length b?
What is the area of the rectangle formed by the yellow […]
Continue Reading

→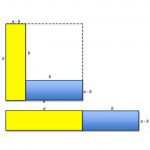 Write down three consecutive whole numbers none of which is a multiple of three. If you can't do it, explain why.
Multiply any two consecutive even numbers together. Why is the product always a multiple of eight?
Take any prime number greater than 3, square it, subtract one and divide by 24.
Make a […]
Continue Reading

→
South Africa COVID-19 News

Login