Currently viewing the tag: "Circle equation"
A sequence of activities in this guide takes you from familiar ideas about lines, then emphasises the 'across' and 'up' aspect of gradient to explain why the product of gradients of perpendicular lines is -1, then uses Pythagoras Theorem to produce the equations of circles and recaps on properties of perpendicular lines […]
Continue Reading

→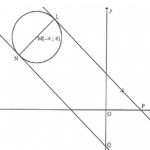 The line LP with equation   y + x – 2 = 0 is a tangent at L to the circle with centre M(-4 , 4).
LN is a diameter of the circle.
LP is parallel to NQ where P is on the x-axis and Q is on the y-axis.
What equations […]
Continue Reading

→
South Africa COVID-19 News

Login