MATHEMATICAL THINKING BOOKS – ORGANISING WORKSHOPS FOR TEACHERS – RESOURCES FOR INQUIRY BASED LEARNING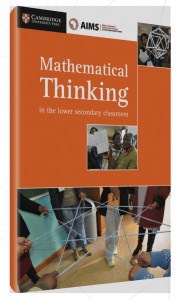 The AIMSSEC MATHEMATICAL THINKING BOOK SERIES is for teachers and educators who want to develop their maths teaching skills.
REVIEWS
AMESA Learning and Teaching Mathematics, No. 22, 2017, pp. 49 – 50
To see more reviews from around the world and to comment on the book yourself click here.
Buy the book online from Amazon or from http://www.cambridge.org/za/education and search for AIMSSEC or for ISBN 9781316503621.  To order the book in South Africa go directly to http://www.cup.co.za.
To find resources for what you are planning to teach:
1. GENERIC CURRICULUM MAP for a typical lower secondary mathematics curriculum.
2. CURRICULUM MAP  for South African curriculum.
The books provide all you need to run professional development workshops for learning as a group without an expert leader.
The books are written by an international group of educators who have taught on AIMSSEC courses and in many countries.
The Mathematical Thinking Lower Secondary Flyer gives information about the first book in the series for Lower Secondary schools published in February 2016.
South Africa COVID-19 News

Login