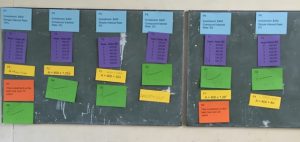 Comparing investments: there are six investments. Find all the representations (description, formula, graph and table of values) of a single investment. After this, work out which statement fits with which investment.
The teacher leads a very short discussion about the different types of investments, reminding the learners about simple and compound interest. He or she then explains what the learners should do. They will get four sets of cards: formulas, graphs, tables and plans. They should group together the four cards associated with each investment. Then the students work in small groups. After the learners finish this activity, the teacher hands out the four statement cards and asks the learners to place these with the appropriate group of cards. The teacher holds a class discussion aiming to draw out something about the students' own learning and to think about the bigger conceptual issues such as: the fact that, while simple interests grow at a steady rate, compound interests may grow more slowly to begin with, but in the longer term they are better.
Note: This activity was designed as a formative assessment activity, in order to to provide the teacher with information about the learners' current levels of understanding.
Teacher Guidance
Big cards
Small cards