Can you find the chosen number from this square using the clues below?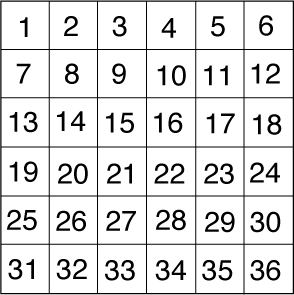 1. The number is odd.
2. It is a multiple of three.
3. It is smaller than 7 x 4.
4. It has an even tens digit.
5. It is the greater of the two possibilities.
See AIMSSEC Teacher Notes ONE OF THIRTY SIX .

This activity is adapted from the NRICH task One of Thirty Six with permission of the University of Cambridge. All rights reserved.