Currently viewing the tag: "Estimating probabilities"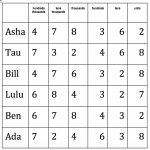 Which of these numbers is closest to half a million?
This game uses ten cards numbered 0, 1, … 9. The cards are put face down and mixed up.  The aim of the game is to make a number as close to half a million as possible.
Each player has six boxes […]
Continue Reading

→