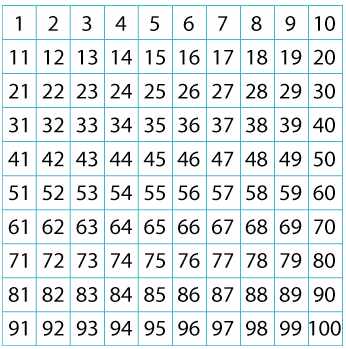 Choose a colour. Put a line through 4,6,8,10 … on the 100 square grid. Carry on until you get to 100 crossing out the rest of the two times table. You do not cross through the first number in the table but it may already be crossed out.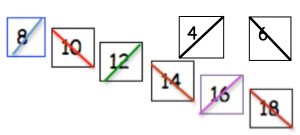 Change colour. Put a line through 6,9,12,15 … Do the rest of the three times table. What do you notice? Talk to a partner.
Now do the same with the other tables up to 9.
What do you notice?
What patterns do you see?
Which numbers are coloured twice? Or 3 times? Why?
Would you get the same result if you stopped after colouring the 7 times table and did not do the eight and nine times table.? Why?
See Teacher Notes Patterns of Multiples Seive.
This activity is named after a Greek called Eratosthenes who invented it.
You can find an interactive class version of Eratosthenes' Sieve here and more about this activity on NRICH.