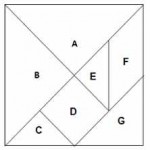 This is a classic Chinese Tangram. Each of the people illustrated, and many convex polygons, can be made with the 7 pieces and there are hundreds of other puzzles based on this tangram.
Can you find a way to fold a sheet of paper so that you can cut out the tangram pieces accurately without any measuring?
Take the edge length of the square as 1 unit.
Find the areas of the 7 pieces. What fraction of the square does each piece make?
Make a square from the pieces A, G, C and E. What is its area? What is its edge length?
How many different polygons can you make using all 7 pieces of the tangram?
AIMSSEC Teacher Notes TANGRAM FRACTIONS
For a bit of fun see http://nrich.maths.org/1491