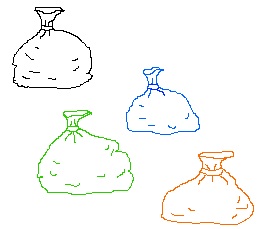 Ram had 15 coins, all the same kind, and he put them into 4 bags.
He labelled each bag with the number of coins inside it.
He could then pay any sum of money from 1 coin to 15 coins using one or more of the bags without opening any of the bags.
How many coins did he put in each bag?
See AIMSSEC Teacher Notes MONEY BAGS
This problem is based on Money Bags from 'Mathematical Challenges for Able Pupils published by UK DfES. You can download a copy here.